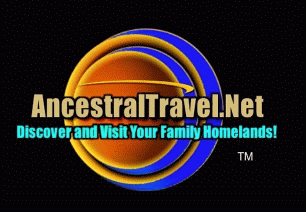 Ancestral Travel Services

To the Global Travel and Tourism Industry:  

We provide a global reference point on the World Wide Web for the niche market we believe will one day rival eco-tourism in popularity, while making a more gentle impact on our planet's delicate environment. 

Ancestral tourism creates jobs, and contributes in a very positive way to the concepts of sustainable tourism.  But, more important, Ancestral Travel fosters a better, and more peaceful world by promoting deeper cultural understanding.

For Ancestral Travelers: 

Our Partners page provides a convenient "one click" worldwide connection to genealogy related service segments within the global travel and tourism industry. 

From
here
you can instantly connect to businesses, both small and large, and to service oriented professionals who understand your interests, know their own local, regional, national, or international resources and are seeking to welcome you as a genealogy service client, or ancestral tourism customer
.
Note:  We have an important recommendation to make to all who are beginning to think about or plan an ancestral journey.  If one of the reasons of your quest is to discover and to share with future generations what you learn about your distant ancestors, then you may want to consult the Family Forest prior to finalizing your travel plans.  You will find an unbeliveable amount of information about your family tree available today in:                                           

The world's leading resource for discovering deep family histories.


Another website inbued with.